Train Station Bride
by Holly Bush
About the book:
1887 Debutante, Julia Crawford endures a lifetime of subtle ridicule as the plump, silly daughter of a premiere Boston family. Julia strikes out on her own to gain independence, traveling to the Midwest to marry an aging shopkeeper and care for his mother. Julia finds her new home rough and uncivilized after the sophistication of a big city, while closely held secrets threaten to ruin Julia's one chance at love.
Jake Shelling was sixteen and grew up quick when his parents died from influenza on the North Dakota prairie. Left with a half-cleared farm and two young sisters, he spent little time on his own needs . . till now. At thirty-five, he figured it was high time to have some sons and a mail order bride would suit him just fine. No expectations of love, just a helpmate from sturdy stock, ready for farm life.
Book Excerpt:
Boston 1887
Chapter One
Dear Miss Crawford,
I will be at the train station to meet you on the appointed day. My mother and I look forward to your arrival. I will stay above my shop until the day of our marriage. My mother has graciously allowed you to stay with her during that time. She is pleased to know you do needlepoint. Her arthritic hands no longer allow her to sew and she is most anxious to have another woman about. I am anxious as well . . .
Julia read to the last line even though she could have recited the letter as if it were the Lord's Prayer.
Very truly, Mr. Jacob Snelling.
The day would arrive for her to depart sooner than she both hoped and dreaded. Mr. Snelling was a successful shop owner, near fifty years old, with an aging mother in a small South Dakota town. He had never married. His mother had begun to complain of a lack of company and he admitted he was lonely. Those two forces had led him to place an ad for a wife in the Boston Globe nearly a year ago. And to Julia's shock she had answered it. Their correspondence had been proper, more formal than she had expected from a merchant in the Midwest.
That formality had been a great comfort to her. It was what she was accustomed to. And he sounded like a truly nice man. He had great regard for his mother, of that Julia was certain. His letters were filled with news of the aging Portentia Snelling and that always brought comfort to Julia when she was most terrified of what she was embarking on. A man so devoted to his own mother would certainly be kind to her. Julia rose from the vanity seat with a smile on her face. One more formal evening with her family could not deter her now.
Julia was not sure of the sentiment only a few minutes later. She greeted a few guests and found an unoccupied chair in the corner of the library. She had spent much of the day arranging the fresh flowers that now filled the room. It had kept her mind and hands occupied while her sisters fussed over their wardrobe and their mother had scolded the servants over some small matter. Without distractions, the day would have dragged and she would have dwelled on a decision her mind had yet to grasp. Julia gazed absently about the room.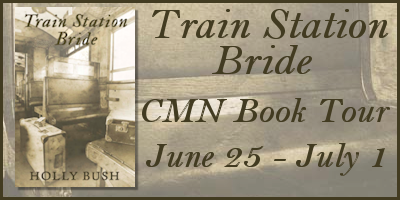 Disclosure: I did not receive any financial compensation for this post. This book excerpt is brought to you by Charisma Media. This disclosure is in accordance with the Federal Trade Commission's 16 CFR, Part 255, Guides Concerning the Use of Endorsements and Testimonials in Advertising.