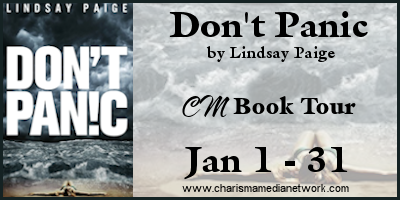 Don't Panic
By
Lindsay Paige
About the book:

Samantha Branson is having severe anxiety attacks. Her heart beats unusually fast, her breath quickens and her hands sweat. Every detail screams in her head that she is the center of unwanted attention. Everyone can hear her thoughts, her heart and her breathing. The silence of the classroom is so loud that focus is impossible.
After an attack lands her in the wrong bathroom, Sam meets Eli who offers to provide help. Faced with the return of her possessive ex-boyfriend and the blossoming of a new romance, Sam must find the strength inside herself to face her anxieties head on.
Author Interview:
1.

Where are you from? - I'm from a small town in eastern North Carolina.
2. Did you always know you wanted to be a writer or was there something else you wanted to do as a career? - I never thought about being a writer. I've always been a reader, not a writer. That was until Fall of 2010. I was experiencing some extreme anxiety and writing became my escape.
3. What inspired you to write your first book? -As I said, anxiety basically. You can read this post to learn a bit more about my journey.
4. In you opinion what is the best movie adaptation of a book that you've read? - Hm. That's tough! I would have to say that A Walk to Remember is the best.
5. What is the first book that you remember reading? -The first book I remember reading was Goodnight, Moon and that was for some sort of test in Kindergarten.
6. If your book was being made into a movie do you already have actors in mind for each role? What bands/singers would you put on the soundtrack? -If Don't Panic was made into a movie? I don't have any actors in mind, no. However, I do have pictures on Pinterest of who I see as Samantha and Eli. You can check out my playlist on Youtube for the artists I would put on the soundtrack.
7. When you're creating characters do you incorporate traits from people you know? -Yes, I do. Sometimes there are traits from myself, and others from other people that I know.
8. If you had the chance to have a sit down with any author alive or deceased who would it be and why? -This is a tough question! The first person that comes to mind is the first author I fell in love with and that is Nicholas Sparks. As I said, he's my first favorite author and I love his works.
9.What book are you reading now? -I'm about to finish up Fifty Shades Freed.
10. What are your current projects? -I'm working on book four of the Bold as Love series, a work titled Rejection, and a few minor projects.
Thanks for having me!
Disclosure of Material Connection: No payment was received by me in exchange for this post. All opinions expressed here are entirely mine and may not necessarily agree with those of the author, the book's publisher and publicist or the readers of this review. This disclosure is in accordance with the Federal Trade Commission's 16 CFR, Part255, Guides Concerning the Use of Endorsements and Testimonials in Advertising