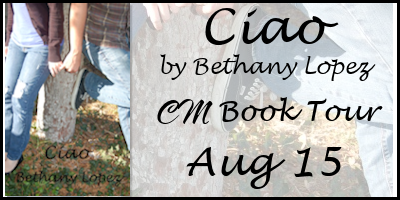 Ciao
By Bethany Lopez
About the book:
Melissa has had a fantastic summer hanging out with her friends and making new ones. Life as she knows it will change when they all come together to begin their sophomore year at Dearborn High. Connections will be made and friendships will be tested. Will Melissa's family and friends be able to help her through the challenges she will face in the upcoming months?
Book Excerpt:
Happy Birthday to me…. That's right I'm now fifteen years old. You may be wondering where I have been all summer, since I haven't written since the day of the Buddy Walk. Well, that last entry filled up my journal. I can't believe I filled two journals already. I didn't realize how much I like to write! I kept meaning to get another one, but I have been so busy that I just never got around to it. I have to say, I have really missed writing things down at night. I was so happy when I opened Megan's present, and she'd gotten me another journal for my birthday. She said it is going to be a tradition, and she promised not to write in this one!
I know I have a lot to write about my summer, but I have to tell you about my birthday party first. I had such a great time.
My actual birthday was yesterday, so I celebrated with the family last night. We all went out to dinner and then they gave me presents when we got home. Mikey gave me some nail polish and Monica drew me a picture of the two of us playing Barbie's (I think that was a hint!). My parents gave me some gift cards, because I like to pick out my own clothes rather than have them pick them out, and they also gave me a new iPod, which I totally needed. Max smiled at me, so I took that as my gift from him. He is turning into a really cute little guy.
To celebrate with my friends, I wanted to do a BBQ deal at the house and just invite everyone over for a great party. So I contacted my friends and told them to invite their friends, and my dad agreed to man the BBQ and try not to be too intrusive.
I went with pink and white colors, because I just love that combo, and my friend, Cassie, helped me pick out decorations and decide what to wear.
Cassie just moved to Dearborn. She moved in a few doors down from my house at the end of June. Being the outgoing and super friendly person that I am, I went down and introduced myself. Turns out she's really cool, and we've spent a lot of time together this summer. She will be starting DHS as a sophomore with me in a few short days. She already knows Brian and Jimmy, of course, but the BBQ gave her a chance to meet everyone that she will be going to school with this year.
Anyway, it turned into an all-out bash! I was feeling particularly cute (Yoga is making me totally toned!) in my baby doll pink ruffled tank with white shorts and white sandals. I wore my hair in a side braid with pink hoop earrings and this sweet white flower ring that Cassie gave me as a birthday present. Mom kept Monica and Max entertained and Megan wandered outside a couple of times to grab cheese cubes and a hot dog, but was ghost most of the day. Mikey hung out with my friends the most, but it didn't bother me. He played catch and basketball with some of the guys and stayed out of my hair.
Brian brought Mo along with him, but promised that there wouldn't be any trouble, and there wasn't. They've had football practice for about a month now to get ready for the season, so they brought some of the guys from the team along with them. Jimmy brought Kasey, Joshua, and Joe, who run track with him, and they brought their girlfriends. I hadn't talked to any of them very much since my fallout with Layla, but they were all really cool. The others who came must have heard from word of mouth, because I had about fifty people from school at my house. It was awesome!
The biggest surprise came about halfway through my party. I was looking for Jimmy and couldn't find him anywhere. He'd told me to come find him later, so he could give me my present. Just when I was about to give up, I saw him coming out of my house, and I started towards him. He caught my eye and smiled and then turned to motion to something behind him - and Jess walked out! I let out a "Whoop!" and went running up to hug her. She wasn't supposed to be home until the day before school, so this was totally unexpected.
Disclosure of Material Connection: This book excerpt is brought to you by the Charisma Media. No payment was received by me in exchange for this post nor was there an obligation to write a positive one. All opinions expressed here are entirely mine and may not necessarily agree with those of the author, the book's publisher and publicist or the readers of this review. This disclosure is in accordance with the Federal Trade Commission's 16 CFR, Part255, Guides Concerning the Use of Endorsements and Testimonials in Advertising.